As "Eat Out to Help Out" stickers and posters start to appear in the windows of restaurants, cafés, bars and other establishments across Bradford & district, customers who want to take advantage of the scheme should look out for the "Eat Out To Help Out" logo.
The logo means that diners that eat-in will benefit from a 50% discount, up to a maximum of £10 per person, on food and non-alcoholic drinks, any Monday to Wednesday in August – and no voucher is required. Diners can take advantage of the offer as many times as they like during the month.
Here are a selection of Bradford Eateries taking part, to tantalise your taste buds:
My Thai, 3 Sunbridge Road, West Yorkshire, BD1 2AZ
Bringing Authentic Thai street food to Bradford. Cheap and good as the real thing in Thailand. "As Thai as possible"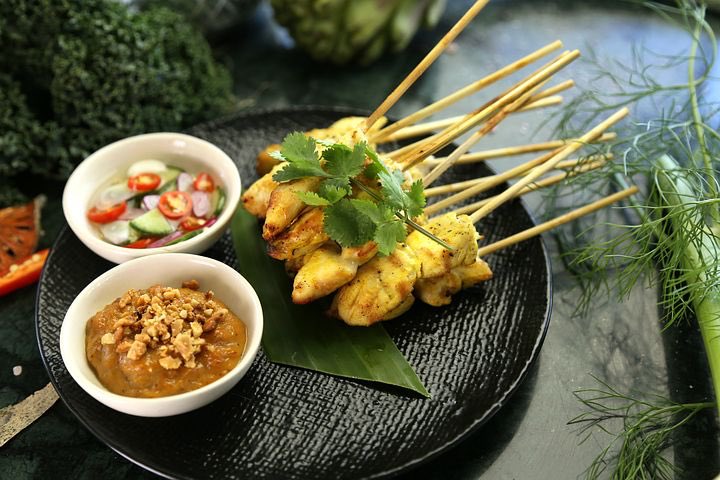 The Roof Top Café, Kala Sangam, St Peters House, 1 Forster Square, West Yorkshire, BD1 4TY
Visit the Rooftop Café Bradford this summer for an enjoyable socially distanced experience with stunning views of Bradford Cathedral. Whether you join them for breakfast, lunch or just a coffee, there's a host of tasty treats to enjoy.
Andie's African Kitchen, Unit 202 Oastler shopping Centre, BD1 3SR
Authentic African cuisine, freshly made on site at the Oastler Market by Andie who has been in the food industry for over eight years. Enjoy traditional dishes including plantain, jollof rice and egusi.
The Cookhouse, Main Street, Haworth, Keighley, BD22 8DP
Haworth's premier destination for breakfasts, light lunches, Yorkshire cream teas, Barista coffees and handmade cakes and scones.
Cobbles & Clay, 70 Main St, Haworth, Keighley BD22 8DP
Cobbles & Clay is a café and pottery painting studio at the top of Haworth's Main Street. Get creative by choosing from a selection of unglazed pottery shapes to paint while having something to eat and drink.
The Hawthorn, 103 – 109 Main Street, Haworth, BD22 8DP
The Hawthorn is a Georgian gem in the heart of Haworth. Enjoy high quality food cooked using the freshest seasonal British produce in a historic Georgian setting.
Tapas Tree, Wharf House, Wharf Street, Shipley, BD17 7DW
Spanish and Mediterranean restaurant in the heart of Shipley. Try mix & match tapas dishes perfectly finished with a refreshing glass (or jug!) of sangria.
Aagrah Shipley, 4 Saltaire Road, BD18 3HN
A wide range of authentic Kashmiri dishes taking you on an unforgettable exquisite journey. Whether you like cool or spicy there's a dish for you.
The Terrace, 83 Bingley Road, Saltaire, Shipley, BD18 4SB
Café, bar and restaurant in the heart of Saltaire serving delicious French cuisine. Offering early bird fixed price menu, full a la carte, plus a specials board, ingredients are sourced locally and in season wherever possible.
The Craft House, Bingley, 109-111 Main Street, Bingley, BD16 2HT
Great food and drink is just the beginning at The Craft House, Bingley café. In addition to eating tasty dishes prepared by talented chefs, you'll enjoy a friendly and exciting atmosphere in a vibrant, artistic setting.
La Casita, The Victoria Arcade, South Hawksworth Street, Ilkley, LS29 9DY
Tapas restaurant based in Ilkley serving the very best in Spanish tapas with a large selection of Spanish wines and beers.
The Olive Branch, 1 Crescent Terrace, Ilkley, LS29 8DE
Turkish cuisine is a fantastic celebration of big flavours and plenty of spice. Try these Turkish dishes including falafel, lamb shish and stuffed vine leaf rolls. Summer flavours of the Mediterranean in Ilkley.
Quinta, 10 Wells Rd, Ilkley LS29 9JD
Quinta brings a taste of Portugal to Ilkley with chef's specials such as a 10oz ribeye steak, sardines, tempura octopus, king prawns and the famous Portuguese tart.
To find out if a restaurant is participating in the "Eat Out to Help Out" scheme you can use the online restaurant finder at: GOV.UK. Simply enter your postcode, or one near to where you want to eat out to get a list of participating outlets within a five-mile radius.
You can also get in touch with your local restaurant to see if they're taking part or check their website.
Buon appetito!
Please follow local restriction guidance what you can and cannot do